Article From: the Boston Herald, November 22, 2002
By Azell Murphy Cavaan, photos by Garo Lachinian
Like a towering grandfather clock forever faithful to its steady tick and graceful toll, 90 year old Pasquale Caruso has stood the test of time. And, in the process, he has made time his business.
"Hard to believe, but 100 years ago time didn't mean anything to anyone," said Caruso, his large hands cupped around a bejeweled watch made in the 1920's. "But then the railroads came along and changed all of that. Suddenly, everyone had a reason to operate on standard time."
If Caruso sounds like a man who knows his way around the mechanics of time, it's because he does. A watchmaker since 1927, Caruso left school at age 17 and went to work as an office boy at the Waltham Watch Company after his father, a laborer for the town of Newton, helped him land a job.
Time, it seems, was on the young Caruso's side. At Waltham Watch, then the biggest American competitor to foreign watchmakers (the company would later dismantle, selling its name to the Swiss), Caruso rose quickly through the ranks.
By the time he retired in 1975, after 50 years at the watch factory, Caruso had established himself as the point man for fixing antique, hard to repair grandfather clocks. He also was known as a watchmaker extraordinaire and was held responsible for the manufacture of 100 clocks a day.
In the 1960's, Caruso, then a union officer, even wrote to President John F.Kennedy requesting his help in landing Waltham watch a contract to manufacture military airplane clocks. "Our competition with the Swiss was fierce," Caruso recalled Caruso, who has atteneded hundreds of watch and clocks shows and conventions through the years. "We needed all the help we could muster." Weeks after Caruso mailed that letter, the president of the Philadelphia arsenal sent word that the factory had been awarded a contract to make 13,000 clocks.
Although Caruso has been one of time's greatest boosters, time has not been as kind to Caruso's craft. "It's a dying thing, this watch making profession," he said seated on a workbench in his home office, where he still makes repairs. "All these watchmakers pass on and there's nobody to take their place."
Enter Christopher Carey, Caruso's 32-year-old grandson and keeper of the family watchmaking tradition. A graduate of the Berklee College of Music and a former band leader, Carey put his musical dreams on hold seven years ago and opened Watertown Watch and Clock Repair, located in Watertown Square.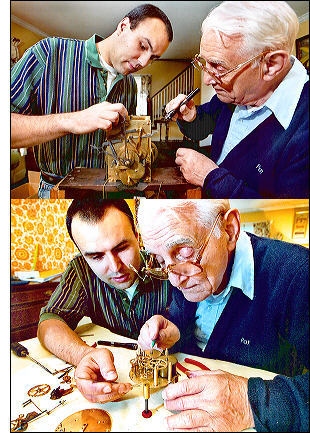 On any given Monday, Grandfather and grandson pack up their tool boxes and make house calls to owners of antique grandfather clocks. Every morning, Carey treks over to his grandfather's home office, where Caruso is usually settled in by 5 a.m. and working on the most tedious repairs.
Stories of successful repairs are almost as plentiful in Caruso's home as the grandfather clocks and antique watches the dot the house. It takes years to master the fine art of watchmaking, "said Carey, who was 14 when he attended his first clock show with his grandfather. "I'm lucky to have had a granddad who can help me out so much. He knows his stuff."
The way Caruso sees it, he's the lucky one. I taught all my kids and their kids how to take a watch apart and put it back together again," Caruso said. "I'm lucky that one thought it interesting enough to keep up." From the sundials to the water clocks, ancient means of telling time have been long forgotten. And the days when wristwatches were reserved solely for the aristocrats are also a thing of the distant past.
But, like his grandfather, Carey has no intention of turning his back on time. "There are a lot of antique grandfather clocks out there and there's no reason they shouldn't last forever," said Carey, who specializes in antique repairs. It's the kind of talk that keeps his grandfather's love affair with clocks ticking.
"I'm passing down everything I know," Carey's grandfather said. "As long as I have steady hands and good eyes, I'll be helping out with repairs." Meanwhile, Carey says he will continue to "learn from the master for a long, long time."
"Old watchmakers never retire," Chris Carey said. "They just unwind."